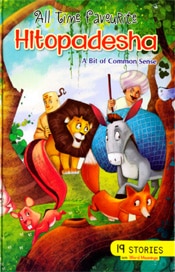 All Time Favorite Hitopadesha
Children's-literature
Language :English
Publisher : Little Scholarz Pvt. Ltd.
Price :
150
A Bit of Common Sense : IQ Stories with word meanings

Hitopadesha from the All time favorite series is meticulous collection of shortstories each imbibing a moral message which will prove to be immense practical value throughout the lives of the readers. It comprises stories which have both animals and humans as characters bringing out the essence of ethics that have survived years in the human civilisation, Even after the turn of centuries these humanistic values still hold fort.
Most of the stories are identical to those of Panchatantra as Hitopadesha is largely based upon the same. Infact, the two classics share the same frame narrative.
The book carries true life pictures that make each story remarkably appealing. The highlighted workds can be traced back to a list of difficult words provided at the end of the book, thus enhancing the vocabulary skills alongside.