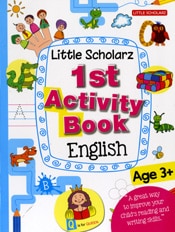 1st Activity Book - English
Children's-literature
Language :English
Publisher : Little Scholarz Pvt. Ltd.
Price :
125
Age 3+
Age 4+
Age 5+
Age 6+
Age 7+

' A great way to improve your child's reading and writing skills.'

A maximum learning is when it is interesting and enjoyable. Little Scholarz English Acitivity Books series have made learning absolutely interesting and fun-filled.
The different five books of the series have been designed according to the age group of the learners, to simplify Basic Reading-Writing.
The Alphabets learning is no more troublesome. Your child will now happily read and memorise them with the interesting pictures associated with them.
They will learn Words, Animals, Objects, Matching, Actions, Habits, Correct English Usage and a lot more in these Fun-Cum-Learn English Activity Books Series.
Rhymes, Riddles, Spellings, Crosswords, etc. will help your child prepare better to face the competitive world confidently.