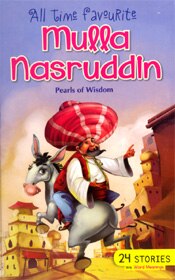 All Time Favourite Mulla Nasruddin
Children's-literature
Language :English
Publisher : Little Scholarz Pvt. Ltd.
Price :
150
Pears of Wisdom : 24 Stories with word meanings

Mulla Nasruddin from the All time favorite series is a wonderful collection of twenty-four stories of wit and wisdom of Mulla, a Sufi character believed to have lived in the 13th century. The stories present a tricky situation before Mulla Nasruddin and end up with his witty solutions that carry a lesson for the readers. His obvious common sense never fails to amuse the readers and train the receptive minds. Mulla's down to earth demeanour, his simplicity and sociability teaches the way of living the modern world yearns for.
The book carries true to life pictures that make each story remarkably appealing. The highlighted words can be traced back to a list of difficult words provided at the end of the book, thus enhancing the vocabulary skills alongsid-e.