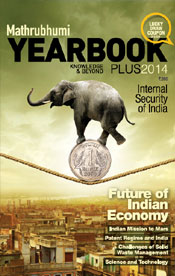 Mathrubhumi English Yearbook 2014
Reference
Language :English
ISBN : 978-81-8265-845-5
page : 1056
Edition : 1
Publisher : Mathrubhumi
Price :
200
Topics:
Future of Indian Economy
TRIPS and India's Patent Regime
Civil Services Exam in new Avatar
India and its Internal Security
India and her Neighbors
Challenges of Solid Waste Management
Special Article on Climate Change.
Gender Justice in India.
Science Movements in India
Achievements of Indians in Science & Technology
Trends in Indian Economy
2014 Upcoming Events
Extensive coverage of Current Affairs
Science Space and Technology
Covering India Comprehensively: Basic Facts, Health, Education, Governance, Public Administration, Media, Social Media, Disasters and Disaster Management, Rural Development and so on. Most updated information and facts from most credible and authentic sources.

1001 GK.