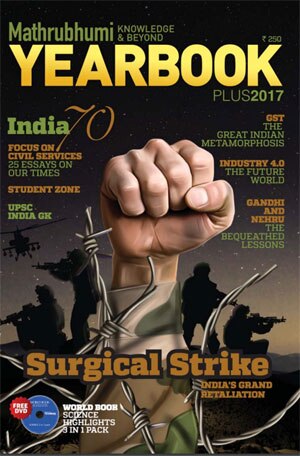 Mathrubhumi Yearbook Plus 2017-English & Free WORLD BOOK Science Highlights DVD
Reference
Language :English
ISBN : 9788182665583
page : 1028
Edition : 1
Publisher : Mathrubhumi
In Stock : 1 Nos.
Price :
250
Mathrubhumi Yearbook 2017, is an omnibus edition on the major happenings of national and international importance. The book carries 25 in-depth analyses by a panel of intellectuals from various fields. The Yearbook opens with an outstanding tribute to the leaders of our great nation, Mahatma Gandhi and Pandit Nehru written by Shashi Tharoor. The book examines the phenomenal progress India has gained through the 70 years of its freedom with studies on key sectors of economy, globalisation, employment, women, energy, agriculture, foreign relations, rural development and sports. The standoff in the Indo-Pak relations is examined giving focus to Jammu and Kashmir. The book carries a scholastic study on the most debated Uniform Civil Code.The great metamorphosis of Indian economy is discussed in essays on GST and the proposed bank consolidation. The fourth era of industry called Industry 4.0, characterised by cyber-physical systems, virtual reality and IoT is the theme of another essay which forms part of a special section on technology. This section unveils the interaction between human and machine communication by studying the changes technology has brought in our life-style, art and language . Topics of international importance like terrorism, refugees, Brexit, cyber crime, climate change and pollution are also discussed in separate essays.

With focus on UPSC and Civil Services, the book deals with a number of topics with most updated facts on Indian polity, governance, geography, world countries, international organisations and global concerns on environment. Changing role of the Civil Services in Indian democracy is another essay added to this section.

There is a Students Zone, which is an interesting anthology of information for students and a GK section named India in- shorts, specially designed for UPSC exams.

Our brilliant panel consists of writers predominantly from public intellectuals, academicians, scientists, economists, sociologists, diplomats and bureaucrats.

With Mathrubhumi Yearbook the knowledge bank for 2017, there is an attractive free gift: a 3-in-1 Science DVD worth ?1485 produced by the renowned World Book group.